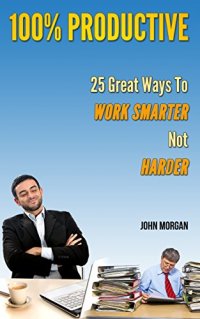 How To Work Smarter Not Harder?
You work yourself until late at night. You spend most of your time at work. You are overworked, and yet you do not feel accomplished. What could be wrong?

The time and effort you put into work is not a reflection of the results you get. It does not matter if you spend the night in your workspace. It does not matter if you forget to eat or breathe. What matters is the result you bring to the table. That is the bottom line.

So, is there a need to sacrifice your entire life for work? Is it worth losing your social life for your career? Is your job worth losing sleep for? Whether you believe it or not, the truth is, your biggest asset in life is yourself. What would you do with a high flying career, an enormous payout, when you can't enjoy it? The lesson is to stop working hard. Start doing what is right and work smart.

This book will help you identify the things you may be doing with regards to work. We have laid out the necessary steps you should be taking to boost productivity and have crossed out the unnecessary things that may be burning you out.

Find out the things you may be doing wrong and what you should be doing right. Change your mind set. Improve your attitude. Start thinking and working smart. Feel accomplished and be more productive.
Would You Like To Know More?
Then Download Now: And Learn How To…
Break Down Big TasksMake a ListKnow Your PrioritiesManage Your Time WiselyLearn to DelegateKnown When to Practice MultitaskingImprove Your FocusTake a BreakDon't Sabotage YourselfEliminate FluffUse RemindersMake an Easy StartBeat ProcrastinationGet Rid of DistractionsStop Pushing Yourself Too MuchGet OrganizedCreate SMART GoalsKnow Your Peak Hours and Make the Most out of ThemReward YourselfPrepare for ObstaclesKeep a Positive AttitudeBe an Early BirdTake Power NapsAnd Much Much More
Check Out What Other People Are Saying…
*) "Excellent book! Lots of wonderful ideas on how to be more productive. Really highlights the importance of our time and how to utilize every minute of it. I especially loved all of the inspiring quotes. Practical, well written and easy to read. Highly recommend!" – magfan
*) "I really needed to read this. I'm a very productive person in general, but I juggle a lot of projects. Its very refreshing to have read something that will get me focused again. I also enjoy how many of these tips were backed up with research. Now I think I'm pretty clear on my goals and what I need to do to achieve more in less time. It's time to work smarter!" – Gina Hall
*) "this was a great read. it had tons of tips and tricks and suggestions for how to be more productive. I also like that it really focused on working smarter, not harder, because being productive shouldn't just be about working hard. was a great book, glad I bought it" – Dee K.
*) "Such a great read! So much information packed into this little book. I am very impressed with the amount of tips there are in here and I have received so much value as a result. Lately I have been struggling with being productive but now I don't have to worry about that because I now work smarter, not harder. Great read, highly recommended." – John Relish
What are YOU waiting for?

Download NOW!

And start to work smarter today!
Tags: how to books, how to ebooks, how to, kindle short reads, productivity, habits, focus, power naps, organized, business skills.