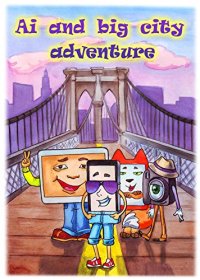 Pinocchio of 21st century.
This is the beginning of an adventures of Ai – a little boy- smartphone, who lives his own life, makes friends and learns what is good and what is bad.
Old Man Steve was lonely until he found a broken smartphone. Deciding to fix it, he accidentally brought it back to life! He names his new friend Ai, and they go for a walk, a friendship forming. But Ai gets restless when they go back home and the very next day he goes out to explore New York City all by himself. He comes across an IPad named Cool, computer named Green, and a camera named Fed. They hang out and have a fun time until Cool asks Ai if he wants to make money. Agreeing hesitantly, Ai's friends make an ad and soon enough find a customer willing to buy smartphone Ai. It's Jack, and he sure is happy with the smartphone Ai, but there's one problem; Ai forgot to mention this all to Old Man Steve! He stays with Jack, making up a lie to Old Man Steve, but feels bad by the end, unraveling a whole new series of events that lead to a suspenseful ending.