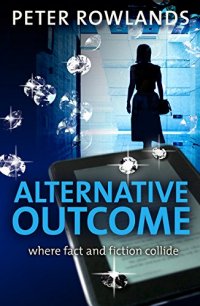 Bargain on 11th - 15th Feb 18



or borrow free on Kindle Unlimited.
No reviews yet.
Alternative Outcome – an engrossing mystery drama that also offers a contemporary take on self-publishing.
Mike Stanhope, divorced and disillusioned with his job in journalism, hopes to switch his life to a new tack by self-publishing a mystery novel based on a true story. But someone is after him, and the pressure is mounting.
Could his pursuer be the subject of an investigative article Mike once wrote? Could there be a link to Mike's attempts to track down a girl he knew as a child – the memory of whom he hijacked for his novel? Or might there be some deeper connection to his book?
As Mike struggles to keep his life on an even keel and tries to grasp at the chance of a new relationship, fact and fiction start to intertwine. Be prepared for a succession of surprises and reverses as this lively and fast-moving mystery unfolds – and at the same time enjoy the observant and topical underlying take on the self-publishing revolution.