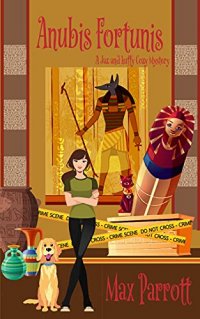 "Anubis Fortunis is another charming installment in the series with a new mystery that brings excitement, humor, and hijinks into the town of Blackwood Cove."–5 Stars, Readers' Favorite
An ancient curse? but is it responsible for a very recent death?
Jasmine Moore is no stranger to the paranormal. As a first-hand witness to a supernatural bond with her golden retriever, she knows there are some things that just cannot be explained.
When a mysterious coffin arrives at their small-town museum of Blackwood Cove, bringing with it stories of an infamous curse, Jasmine plays it off as just another silly old story. But after the body of a young museum employee is found, she?s forced to wonder if there really is some truth behind the coffin and the mysterious deaths that surround it?
Diving into another perplexing case as an upcoming private investigator, Jasmine and her dog Luffy are tasked with unraveling the strange secrets surrounding the museum?s primary exhibit and its employees. And as she digs deeper, Jasmine wonders if psychic visions and talking dogs aren?t the only magic that Blackwood Cove has in store?or if the ominous danger lurking the museum halls is more human than anyone could have guessed?