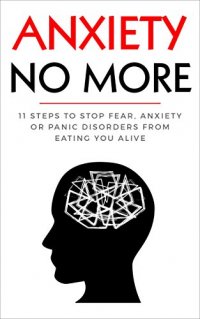 Bargain on 30th Apr 18



or borrow free on Kindle Unlimited.
No reviews yet.
How to handle anxiety and fear from overpowering your life
Anxiety and panic disorders can be really terrifying as these can make breathing difficult and cause your heart to pound and knees to weaken. Anxiety can also trigger dizziness and chest pain.
While most anxiety and panic disorders only last for a couple of minutes, its effects are frightening and can make you feel uneasy. If you're prone to experiencing anxiety attacks then this book covering some steps in handling the problem can help. It provides a step-by-step solution to overcoming anxiety, allowing you to enjoy life confidently and without the negative effects of the disorder. Read this book to help you embark on your healing journey.
Here Is A Preview Of What You'll Learn…
Identify the cause Recognize and accept the causeBreathing methods to overcome anxietyBenefits of meditationTalk to someoneTrain your mindBenefits of exerciseWhat you eat matters Creative therapyStop trying to control everythingMuch, much
more!
Purchase your copy today for only $2.99!