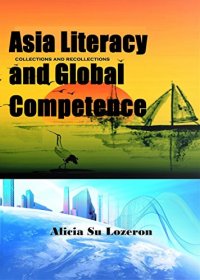 Free on 1st - 3rd Nov 18



or borrow free on Kindle Unlimited.
No reviews yet.
ASIA-LITERACY AND GLOBAL COM-PETENCE is a collection of vignettes and articles about Asia and the world. In bringing the Asian segment onto the western stage, Alicia Su Lozeron emphasizes the invaluable contributions of the Asian sector to the global village. An irresistible shift of global power renders awareness about global competence ever more important. She aims to raise that awareness and connects the West to the East by researching and analyzing facts as well as describing experiences of cross-cultural nature. Her content is compelling, and her tales, beautifully narrated.
Through her translation and com-munication management company, Asia-America Connection Society, AACS ??????, Alicia Su Lozeron has promoted Asia-literacy and urged global competence. Her diligence in providing quality content related to Asia and the globe has proven to be rewarding, both to her own personal fulfillment, and to the global village's needs. For herself, the work is her cause and calling. She gains a great deal of gratification through hard work and creation. For the world, her work is beneficial and educational in the ways it introduces peoples and cultures of various heritages and embraces world citizens of the global village, with their fair share of rights to being, to life, and to our magnificent Earth.
Alicia Su Lozeron's advocacy for mutual understanding and collaboration among cultures is vital for your company or personal accomplishments, on a business, cultural, educational, or entertainment dimension. Below is what readers and audiences have discerned of Alicia Su Lozeron's work:
o helps me overcome difficulties or fears and find beauty in positive human interactions;
o helps me appreciate people of various backgrounds, and expand knowledge about the world;
o helps me understand interracial or blended family relations;
o helps me savor intricate feelings and emotions about important subjects in life;
o helps me gain enjoyment through poetic narrations;
o helps me realize a new perspective of hope, courage, and respect for others;
o helps me raise awareness about cultural competence;
o helps me nurture a well-rounded global outlook;
o motivates me to promote an open/just community;
o urges me to develop the ability to see the big picture using multiple frames of references;
o helps me strengthen the ability to express genuine love;
o helps me decrease conflict by learning to trust and to resolve disagreements….
"Think Global Live Noble" — together we can build a better world!