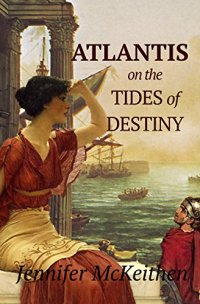 Free on 31st Aug 17 - 4th Sep 17



or borrow free on Kindle Unlimited.
No reviews yet.
A princess faces a difficult choice…
A spy seeks redemption…
A soldier finds his destiny…
A dark power rises.
Princess Gwenwhyfar of Ker-Ys is determined to protect her kingdom at any cost. After a pyrrhic victory against the Harappan invaders, she must heal her family's three-generation blood feud if her people are to survive in a world at war. Yet forging this alliance may depend upon renouncing her love for Marcus Duilius, a Roman hero of plebeian origins.
Kenda Ptah, now Ambassador of Atlantis, embarks on a covert mission into the heart of enemy territory-with the one person he can never trust. In the court of King Ashoka, he uncovers a secret that shakes the foundation of everything he once believed. Will he learn to put aside his prejudice in time to escape death and save the Island Continent?
Atlantis On the Tides of Destiny is the second book in Jennifer McKeithen's Atlantis trilogy, a spellbinding tale of intrigue, fate, and the triumph of true love. If you like J. R. R. Tolkien, Jessica Day George, and Jane Austen, then you'll love this series that combines all of their best traits in a fast-paced, captivating adventure.
Buy this book to continue the epic series today!