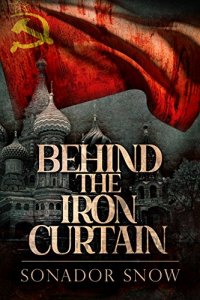 Free on 3rd - 7th Sep 17



or borrow free on Kindle Unlimited.
No reviews yet.
A lot has been written about communism and the life of people under its rule, but what about the true stories?
The narrations Behind The Iron Curtain are all based on true stories, told by those who experienced them. These stories are expressed the way they remained embedded in their minds for the rest of their lives.
What drives an old man and a crying boy to venture outside in the freezing night? What happens to a mother and her growing son when she takes him to church at Easter? What does it take to provide presents for your kids on a government-banned Christmas? How long should one wait in prison to hear what his actual crime is? Who chooses your kid's name? What happens at school to a young boy made different by nature? Who is to blame when an entire generation is 'gifted' radiation poisoning and how does one live with that as it eats him/her from the inside?
The answers to these questions, and many more, are to be found in the seven short stories in this book. Warning from the author: this is not a light read, and will hardly make you smile. However, everything in these stories was, or still is, the truth – and bitter reality of their everyday life.