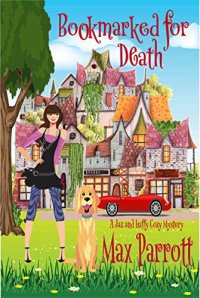 "A wonderful quirky and unique cozy mystery that blends the playful tone of a cozy with the zaniness of a supernatural comedy with the love of dogs thrown into the mix."–5 Stars, Readers' Favorite
A puzzling murder and not a suspect in sight?
After a dead body is discovered in the dusty stacks of the old library, the quiet seaside town of Blackwood Cove is once again plunged into a seemingly unsolvable case.
College student Jasmine Moore wanted nothing more than to relax with a good book after a stressful and tumultuous semester. But it seems like fate has other plans. Surrounded by familiar faces and accompanied by her trusted dog Luffy, this amateur sleuth must once again put her wits to the test against a baffling murder with not a suspect in sight.
If Jasmine wants to fight her way to the bottom of this mystery, she?ll need more than just luck this time. With a sea of conflicting clues and contradictory information, it seems like Jasmine and Luffy are up against their toughest case yet. Only a few subtle connections hold the secret to finding the killer ? if she?s quick-thinking enough to spot them?