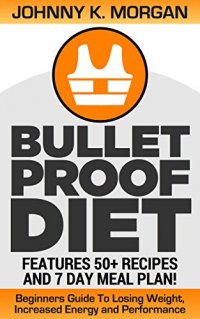 Free on 10th - 14th Aug 16



or borrow free on Kindle Unlimited.
No reviews yet.
After reading the original Bulletproof diet book I got really inspired to take on the Bulletproof challenge and put it to the test. I was a bit skeptical at first considering how unconventional some of the ideas Dave Asprey was putting out there. Like putting butter in your coffee for breakfast. But I thought I'd give it a go anyway and I was hugely impressed! The bulletproof coffee, when the recipe is followed correctly, gives you a nice mental and physical energy boost and it even starts your fat burning metabolism for the day.
This book contains a quick overview of the Bulletproof Diet along with the core principles. What type of things you should eat and those you should avoid. Some of these things really surprised me at first. Chicken, for example, is a poor choice of protein. This book also contains over 50 delicious and easy to follow recipes that will upgrade your life and make you bulletproof.
You will learn:
• How the bulletproof diet works.

• Guiding principles of the Bulletproof Diet.

• Over 50 bulletproof recipes so you have plenty of variety in your diet.
Download now and start cooking delicious bulletproof recipes!