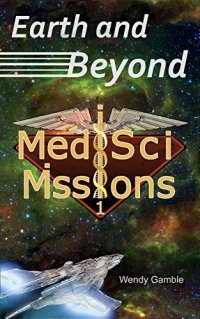 Bargain on 28th Jun 20 - 2nd Jul 20



or borrow free on Kindle Unlimited.
No reviews yet.
*Note* Parts of this novel describe a fictional pandemic (caused by aliens). Some might prefer not to read this novel at this time. For those who would like to, I've temporarily reduced the regular price to .99 to help ease isolation boredom.
Earth had achieved a semi-utopia until aliens destroyed the peace that took decades for hacker revolutionaries to build. After a bizarre robot occupation leading to all-out war, humanity was left with a deadly alien pandemic. Their possible salvation lies in a team brought together to search for a solution beyond the stars.
The mysteries of genetics and microscopic entities, along with the wonders of the future surgical scene are at the heart of their quest, with the soul coming from each specialist?s own talents for using them.
As their journey into deep space begins they encounter obstacles and battles of wills as they strive to survive the harsh and not-so empty space on the way to their distant goal. Together, the hand-picked team deals with technical problems, illness, personal issues, and secret elements of Earth?s warring bio-tech ideologies as they kick off their mission to save Earth.
This novel is enhanced with black and white interior illustrations.
The paperback has info boxes with excerpts from a glossary of terms. The full glossary is available on the website at https://medscimissions.wordpress.com/
This is the first book in the opening trilogy of a science fiction space adventure.
Excerpt from Q&A with MedSci Missions Creator
Q: Who is MedSci Missions aimed at?
A: In a nutshell, I?d rate it PG, especially good for adults and teens who enjoy a bit of technobabble and brain work or who don?t mind skimming over it to get to the story .
Q: Earth and Beyond is called #1; is the novel a cliff-hanger?
A: A bit. Though there is a long-term goal to cure Earth?s pandemic, the immediate conflicts and dangers in the novel are resolved.
Q: Why are there pictures in the book? Don?t pictures in a book mean it?s for a young audience?
A: I had them available so I added them into the novel as a bonus, expecting lovers of space exploration shows and comics to appreciate them.
Q: Is this a clone of popular space shows or books?
A: No. While I have a passion for other fictional universes, I wanted to do something different. The Medship Chiron will spend a lot of time near one particular planet, and we will get to know the inhabitants of it very well as the long-term plot progresses. The atmosphere on-board is different from in other stories. The Captain is in charge of the crew, but not the mission specialists. The Ambassador in charge of the mission scoured the Earth for the top civilian scientist to carry it out, so the geniuses who can solve the problem must be protected at all cost and their work facilitated.
Q: Did you submit the manuscript to traditional publishers?
A: No, for multiple reasons. Research I did indicated self-publishing is the way of the future, and MedMissions is all about being in the future.
Q: How much is written for MedMissions?
A: The second novel, "Ripped Genes: MedSci Missions 2," is nearing completion. Besides the first Novel, Earth and Beyond: MedSci Missions,1 which is available now, a ten- thousand-word glossary of terms can be read for free on the main website.A Ship Guide and Medical Compendium are written but need to be illustrated before being release. There are comic scripts for possible future publications.