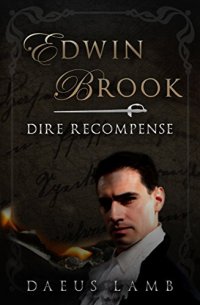 Matthew is sworn to avenge a murder. His dedication to his wronged family is powerful enough to bring him through any trial, but youth and inexperience hold him back. Setting out to find new strength, he plummets into a web of tangled plots, tragedies, and a deep uncertainty surrounding his destiny. Matthew returns years later with wealth and power, ready to fulfill his vengeance. Assuming the mysterious guise of Edwin Brook, he begins his struggle for justice, but uncanny events keep thwarting his every move. In a twist of fate, he is forced to confront the shattering of everything he fights for, the testing of everything he has ever cherished, and a long-hidden truth that will threaten his life.
Edwin Brook is a tale of tragedy and hope, love and justice, highwaymen, daring rescues, historic treasure, and a stirring bittersweetness that won't be easily forgotten. It is an 18th-century action adventure novel with a classical bent, but an intensity that will appeal to modern readers. This tale promises to engage lovers of historical fiction, action and espionage, mysterious characters, and stories with a psychological aspect. Lovers of classical literature may also enjoy some of this book's similarities in style to works such as Charles Dickens' A Tale of Two Cities or Alexandre Dumas' The Count of Monte Cristo.
If you are beginning to feel the call, dive into the book and experience it for yourself.