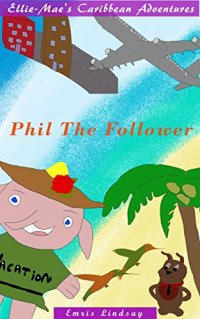 Bargain on 2nd Jun 17



or borrow free on Kindle Unlimited.
No reviews yet.
Follow along with Ellie-Mae the elephant as she goes on a vacation to the beautiful Caribbean island of Tobago. There she will meet Pete, Peter and Phil who will carry her on an amazing adventure.
This book is geared towards teaching kids about good, old-fashioned morals and principles, in a fun , adventurous way. They will explore the unique Caribbean culture, plants and animals. They will follow along as she helps to return a lost puppy, who disobeyed his mother and learn why disobeying their parents is bad.
Your kids will love this adventure. 
Paperback
Author Interview

Why do you write?
I write my whimsical stories to teach kids about good, old-fashioned morals and principles while at the same time engaging them in fun interesting stories.

What genre is your book? 
This book is an Adventure Children's Book

Give us an insight into your main character. What does he/she do that is so special?
In this book Ellie-Mae the elephant is the main character. Being wise for her age she helps to reunite Phil, a lost puppy, back to his mother.

If this book is part of a series, tell us a little about it?
This series is focused on Ellie-Mae and the wonderful adventures she goes on as she and her parents visit the beautiful Caribbean island of Tobago. 

How can readers discover more about you and you work?
You can find more info about me on my Blog, Facebook Page, Twitter Page, Amazon Author Page and Goodreads Author Page. Just search for Emris Lindsay .