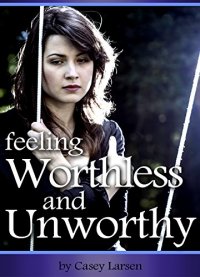 Free on 4th - 8th May 19



or borrow free on Kindle Unlimited.
No reviews yet.
If you're ready to get rid of those feelings of worthlessness and unworthiness, to finally attain the life of fulfillment and happiness you deserve, then this book is for you!
Read on your PC, Mac, smart phone, tablet, or Kindle device.
Feelings of worthlessness or unworthiness can sometimes appear seemingly out of nowhere. Your life may be sailing along just fine, until a chance encounter triggers something, causing you to feel inadequate, propelling you into a heightened state of self-awareness and a markedly compromised perception of yourself. It could be that your self-worth was dented by a sudden breakup, or the realization that you've hardly achieved any of the goals you've set for yourself. Whatever the triggering event may be, feeling as if you don't quite measure up is almost invariably characterized by some sort of introspection and a strong desire to question the very purpose of your own existence.
This book is designed to help you actively combat these negative and destructive emotions. Take refuge in the fact that it's perfectly natural to go through some of the lows presented by life. What is fortunate is the fact that you can actually do something about how you're feeling and take steps towards restoring your self-esteem. This book will not only help you overcome current feelings of a depleted self-worth, but it will also equip you with an invaluable set of life-skills that you can deploy in the future if ever these feelings take a hold of you again. Let's get started!
Here Is A Preview Of What You'll Learn…
Identifying the Triggers of Negative EmotionsMapping Out a Path to HappinessTaking Action and Evaluating ProgressFilling in the Gaps with Quick, Daily, Pick-Me-UpsHow to Get Up, Show Up, and FightMuch, much more!Download your copy today!