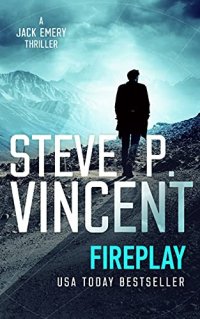 Top - Reviews - Update Details
A chance lightning strike. A reporter in the right place. A scandal that will rock America.?
Journalist Jack Emery has seen it all. Embedded for the New York Standard with the 8th Marine Regiment in the heart of Afghanistan, he has covered everything from firefights to the opening of new schools. But nothing has prepared Jack for the story that is about to explode right in front of him.?
When a convoy Jack is riding in is attacked by a lone zealot, Jack asks a question that puts him on the path to a sensational story. But he?ll soon learn that his struggles to find the hook are nothing compared to the dangers of getting it out.
The explosive Jack Emery series has been likened to Tom Clancy, Vince Flynn and David Archer. If you like breakneck pacing, non-stop action and twists that will leave you gasping, then you?ll love Steve P. Vincent?s bestselling books.
What the experts are saying about Steve P. Vincent?s thrillers
?Great fun. A two-fisted thriller, escaped from five minutes into the future.? ? John Birmingham, USA Today Bestseller.
?Masterful, electrifying thrillers that will keep you coming back for more.? ? Nathan M. Farrugia, USA Today Bestseller.
?A vibrant thriller series with international appeal, slyly-written and entertaining, which should satisfy fans of the genre.? ? Newtown Review of Books.
?It?s power play after high-stakes political power play in the Jack Emery series. This series had us white-knuckling our iPad.? ? Apple Books.
?A jet-setting, alarming, bang-pow-kaboom read full of bloodshed and machinations you?ll hope never become reality. Don?t start reading it at 9pm unless you have the next day off!? ? ReadingKills.
?A tightly plotted conspiracy novel that feels uncomfortably like it could very well be based on real life.? ? AustCrimeFiction.
What Amazon Readers are saying about the Jack Emery thrillers? 
????? ?Great read!! Couldn?t put it down!?
????? ?This is a great series – highly recommended!?
????? ?A non-stop, thrill a minute series that you will never forget.?
????? ?Well written and unputdownable.?
????? ?A very good story of intrigue, espionage and conspiracy.?
????? ?Full of action, drama and suspense, this series is well worth reading!?
????? ?I could hardly put these books down, and my house-work definitely took 2nd place!?
????? ?Steve Vincent has become one of my top 3 authors. Great characters and lots of action.?
????? ?This a great book full of fast paced thrilling action which makes it a compelling read.?
????? ?This is an excellent adventure, following in the footsteps of the late Vince Flynn!?
????? ?An awesome, action packed and thrilling read that left me gasping.?
????? ?One of the best political thriller series of the decade!?
????? ?Full of action and intrigue and tightly linked to the real world in which we are living.?
????? ?Wow! What a tremendous author. You really need to READ THIS BOOK!?
????? ?Right up there with Dan Brown, John Grisham, and Tom Clancy.?