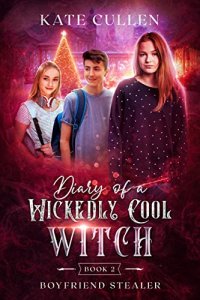 Bargain on 30th Oct 18 - 3rd Nov 18


No reviews yet.
A funny book for middle grade girls and young teenagers about bullies, boys and Christmas baubles, and being happy with who you are.
What sort of girl steals boyfriends? Especially when you don't even have a boyfriend to steal in the first place.
Once again Lily, the good-hearted, 12 year old witch steps up to the challenge, when the school's meanest cheerleaders, Tiffany and Krystal are up to their conniving tricks again and set to destroy the school's Christmas party. And this time, they're out to get Lily as well.
Lily realises something smells fishier than eggnog gone off, when Krystal starts hanging round Alex, Lily's best 'boy' friend, as he tries to organize the school Christmas party. But he's not the only boy that Krystal has her sights set on, and she and Tiffany, her partner in bullying, will do anything to get what they want, even if it means putting everyone at the party in grave danger.
It's one of Lily's most dangerous and difficult challenges yet, and she's not sure if her witchcraft powers can save the day, but she does everything she can to try.
Another light-hearted and humorous look at teenage life for girls. 'Boyfriend Stealer' deals with bullying, self-image, panic attacks, boys, staying true to yourself and just being a good friend.