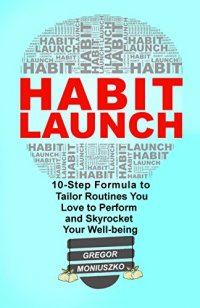 Free on 14th - 18th Oct 17



or borrow free on Kindle Unlimited.
No reviews yet.
Create Habits that Work with Your UNIQUENESS, Without the One-Size-Fits-All Nonsense
What if you could finally tailor routines you actually love doing? What if these routines brought out the best in you and started a powerful chain reaction to help you get exactly what you WANT?
You'll have to STOP working so hard, though. You'll have to stop saying you haven't succeeded because you're "lazy." You'll have to stop beating yourself up for not working "hard enough." You'll have to stop copying successful people's habits that are not compatible with your inner self.
Here's what you'll START doing:
You'll discover the easier way to kick-start your dreams. You'll learn how to tailor your strategies and tactics so they work FOR you (not against you). You'll discover why mindless copying of the successful people's habits often decreases the quality of your life (Paradox of Undesirable Success) You'll see how the smallest of changes can help you transform your life. You'll discover how to pick, tweak and form habits that fit you like a glove. You'll learn how you can improve your health and fitness as you reduce stress and negativity. You'll discover how to reach your full potential in success, happiness and well-being. You'll learn how to use your new, personalized habits to finally create the life you really want for yourself. BONUS! FREE printable workbook to make your journey easier.
Habit Launch was written to help you tailor your new habit today so you can KNOW WHAT IS POSSIBLE FOR YOU. Let's find out together, now. Your wait is over.