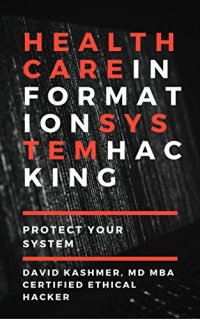 Healthcare Information System Hacking
Understand how your health information is at risk and how hackers attempt to obtain it.
Learn the true value of your health information, and how hackers attempt to access it. Healthcare Information System Hacking introduces the specific steps hackers follow to obtain information from a hospital or health system. This book is great for information professionals in healthcare and concerned patients alike!
Learn The Steps
This book shares the key steps a hacker performs to access a health information system, and highlights some of the key steps to prevent a future system breach as told by a Certified Ethical Hacker (CEH).
CEHs attempt to prevent security breaches by testing systems (only with written permission from the system owner) and reporting out on security weaknesses to the system owner. They test systems with the same tools used by would-be attackers.
Hear the stories
Read interesting stories of healthcare systems that were hacked, and learn cautionary tales of poor cybersecurity in healthcare as told by a Certified Ethical Hacker.
Learn The Lessons
Find out more about how the Principle of Least Privileges, online job descriptions, and The Wayback machine all play a role in keeping your organization, or your own data, safe.
Scroll up and purchase Healthcare Information System Hacking today!