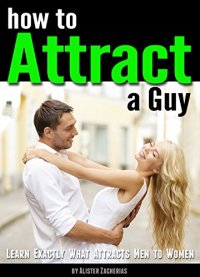 If you're ready to learn how to attract a guy – the tried, true, and easy way – then this book is for you!
Today only, get this incredibly useful guide for only $2.99. Regularly priced at $4.99. Read on your PC, Mac, smart phone, tablet or Kindle device.
Some women believe there's no way to control a man's attraction for her. He's either in, or he's out. Other women think that a way to a man's heart is by dressing cute and baking cookies, or other such "secret ways to a man's heart". Truth be told, neither perspective is correct. While attraction is subjective, there are certain factors – within your control – that can determine how appealing you'll be to men. By developing these specific traits that work time and time again across the spectrum of men, you'll be much more likely to successfully snag (and keep) the man of your dreams. Let's get started!
Here Is A Preview Of What You'll Learn…
Perceiving Him as Human and Getting Away from Stressing and ObsessingThe Great Piece of Wisdom that Most Women DismissThe Key to ConfidenceHow to Look 'Good' but not 'Generic'The Absolute Most Effective Way to Capture His AttentionLetting Him Know You're InterestedMuch, much more!Download your copy today!
Tags: body language attraction, how to attract a man, physical attraction, attracting men, attractive, attract men, attraction, how to attract a guy, what attracts men, what attracts men to women, how to be attractive to men, how to be attractive, attractiveness, how to attract men