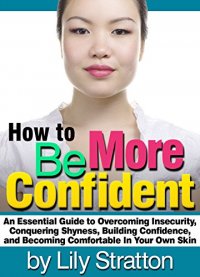 If you're ready to understand and overcome your lack of self-confidence once and for all, then this book is for you!
Read on your PC, Mac, smart phone, tablet, or Kindle device.
Are your insecurities and shyness holding you back from reaching your full potential? Do you want to finally believe in your abilities and feel comfortable in your own skin? If your answers are yes and yes, then you've come to the right place! This book is designed to shed light on how shyness, insecurity, and lack of confidence tend to manifest themselves, and then reveal proven techniques that will help you feel more competent, boost your confidence, and make you feel entirely self-assured. By changing focus and making simple changes, you can finally become the entire person you were meant to be, rather than the restrained version of yourself that you are right now. Read the entire book from cover to cover, then go back and choose just a few specific strategies that seem the best suited for you, and start practicing them today. Be persistent, and you will start gaining more confidence in yourself, then you can try some of the other strategies too. Let's get started!
Here Is A Preview Of What You'll Learn…
Covering the BasicsGetting to Know YourselfMaking Change HappenHow to Get GoingRelating Better to Other PeopleWorking On Communication SkillsGetting Happy and Staying HappyMuch, much more!Download your copy today!