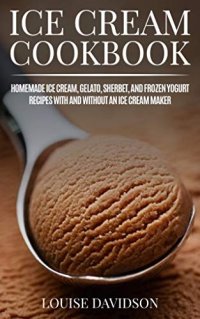 Beat the summer heat with homemade ice cream and other frozen treats with or without an ice cream maker!
Download FREE with Kindle Unlimited
Make the best ice cream, sherbet, gelato, and frozen yogurt with easy to prepare recipes. All recipes come with two sets of directions:
1) the same recipe to prepare with an ice cream maker
2) the same recipe to prepare without an ice cream maker!
A collection of old-fashioned, classic, unexpected, simple, and advanced recipes for ice cream, gelato, sherbet, and frozen yogurt recipes that you can prepare for any occasion in advance! Whisk up a whimsical treat for your family and friends. They will love it! Nothing is better than homemade ice cream cone anytime of the year.
Inside this illustrated cookbook, you?ll find:
Ice Cream Recipes Including:
Pecan and Maple Syrup Ice CreamClassic Vanilla Ice CreamBlueberry Ice CreamClassic Chocolate Ice CreamRum and Raisin Ice CreamChocolate Covered Almond Ice CreamSalted Caramel Ice CreamPapaya and Passion Fruit Ice CreamOld Fashioned Coffee Ice CreamGraham Crackers and Honey Ice CreamRocky Road Ice Cream
Gelato Recipes like:
Creamy Pistachio GelatoNutella GelatoBiscotti GelatoToasted Butter Pecan GelatoNutella GelatoPineapple and Coconut Gelato
Sherbet Recipes such As:
Chocolate SherbetPineapple and Coconut SherbetOrange SherbetRaspberry SherbetLime Sherbet
Frozen Yogurt Recipes like:
Kiwi Frozen YogurtVanilla Frozen YogurtStrawberry Frozen YogurtBlueberry Frozen YogurtMango Frozen Yogurt
All recipes come with a beautiful image, a detailed list of ingredients, cooking and preparation times, number of servings, 2 sets of easy to follow step-by-step instructions to make the recipes with or without an ice cream maker, and nutrition facts per serving.
Read on your favorite devices such as Kindle, iPhone, iPad, Android cellular phone, tablet, laptop, or computer with Amazon's free reading Kindle App.
Let's makes some ice cream!
Scroll back up and click the BUY NOW button at the top right side of this page for an immediate download!