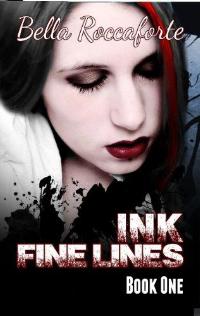 INK: Fine Lines is book 1 in a paranormal suspense series.
Shay Baynes is a wanted woman: by the police for a double murder, by two rival suitors, and by the evil specter that haunts her dreams and soon her waking hours.
It's Shay's twenty-second birthday and she's finally in charge of her life. She's out on her own and about to hit it big with a new comic series. But the ink isn't dry on her breakout first issue when it all starts to unravel. Not even Shay's twisted imagination can predict what will happen when the fine line between reality and nightmare is crossed.
What Reviewers Have To Say:
"It explodes into the most exhilarating, pulse pounding, breath taking, heart breaking, scandalizing, scary as Hell, no holds barred love that completely shatters and leaves you unnerved for days. That, is this book. It is THAT amazing!" ~ZombieMommi
"Roccaforte is focused on witty dialogue and uniquely personal narration. I smiled through a lot of the caustic dialogue." ~ Author – Nicholas Wilson
**This book contains adult language and situations**
INK: Vanishing Point (Book 2) is available now.
INK: Abstraction (Book 3) is coming soon