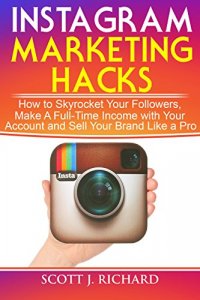 Free on 21st - 22nd Sep 17



or borrow free on Kindle Unlimited.
No reviews yet.
This book is the right choice for you if you:
a) Want to sell your products on Instagram or
b) If you don't have anything to sell, but still want to make money on Instagram.
In short: This book is for everyone who wants to GROW their followers fast and MONETIZE his Instagram account.
It teaches you everything you need to know without wasting your time with incidental or empty talk, but with step-by-step instructions and hands-on advice.
For a better understanding, the book is structured into two parts:
————————————————————————————————————————————————-
PART I
Before you can make money with Instagram, you need to have real and active followers. That's why the first part of the book teaches you how to grow your followers fast and organically. You don't need to invest any money or buy fake followers. Learn the right strategies and get insider knowledge what exactly you have to do.
This knowledge is based on statistical facts and includes years of experience and secret tips and hacks of a professional social media manager, who managed to grow countless of Instagram accounts to hundred thousands of followers.
————————————————————————————————————————————————-
PART II
The second part of the book is dedicated to the monetizing of your Instagram account. Depending on your situation, you will learn:
1) Different strategies how you make a full-time income without having a product to sell, but only with your Instagram account.
2) Different ways how you can brand and promote your product on Instagram to bring more potential customers to your website and thus, increase your sales immensely.
You will be surprised how easy it is to monetize your account once you know about these strategies and tricks.
————————————————————————————————————————————————-
With this book, literally ANYONE can learn how to make money on Instagram. You don't need to have any experience or specific knowledge and you don't need to invest a single dollar. You will learn all you need to know with this book.
STOP missing out on a fairly easy income source and START your new life today. In a few months from now, you will wish you had started today!