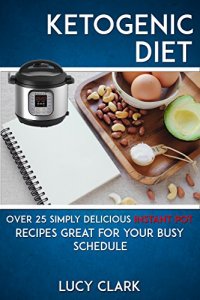 Free on 31st Dec 17 - 4th Jan 18


No reviews yet.
Enjoy these delicious recipes that will satisfy your culinary desires while helping you maintain a healthy life style !
The Ketogenic Diet is one of the most efficient diets when it comes to weight loss. Based on a simple principle of eating more fats as compared to carbs, the Keto Diet has taken the world of weight loss by storm. Millions of people across the world have lost oodles of weight by eating right.
But even if we decide to eat right, preparing a home cooked meal everyday is not a viable option for everyone, considering our time constraints and busy lifestyle. That is where the instant pot comes in. This device is especially designed for people who have less time at hand to spend in the kitchen, but who still want to eat home cooked meals.
This device cooks food in less than half the time of other traditional cooking methods, without impacting the taste or the texture of your food. To help you with your weight loss journey, I have brought together some delicious Keto Compliant recipes that can be cooked in a matter of a few minutes in an instant pot. This will ensure you are able to stick to your diet plan and achieve your weight loss goal.
Here Is A Preview Of What You'll Enjoy…
Nutritious Instant Pot Ketogenic Breakfast RecipesQuick and Easy Instant Pot Ketogenic Soup and Stew RecipesHearty Instant Pot Ketogenic Meal RecipesTasty Instant Pot Ketogenic Side Dish RecipesDelicious Instant Pot Ketogenic Dessert RecipesAnd Much, Much More!
Kick start your new healthy way of living now for a limited time discount of $0.99!