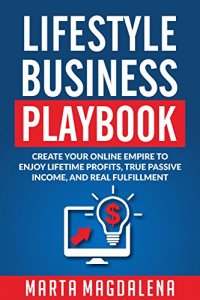 Free on 9th - 13th Feb 18



or borrow free on Kindle Unlimited.
No reviews yet.
Do you want to take control of your life, time, location, and money? Sick and tired of feeling trapped in a job you hate or entrepreneurial ventures that are not aligned with your lifestyle and burn you out? Do you want to build your own profitable digital business that runs for you, even if technically you are not working?
Lifestyle Business Playbook is your proven and unique one-way ticket to freedom you have always wanted.
You see, everyone has something they can turn into a lifestyle business they love!
Whether you know it or not, you already have a set of skills and strengths, and when combined with mindsets and strategies that you will discover in this book, will help you unleash the best of you and will transform your life on a deeper level.
The Lifestyle Business Playbook is your actionable and unique game plan if you:
– You want to quit your job but have no idea how to generate income
– You want work from home or become a digital nomad
– You want a side hustle to add to your current business or job
– You want to improve or nourish your existing business
– You want to make a positive impact
– You want to create passive income!
Here's Exactly What You Will Learn
Part I: MINDSET TRICKS
– Why most people fail with their online business and how to make sure it doesn't happen to you.
– How to create different sources of motivation
– How to improve your money mindset by getting rid of the most common limiting beliefs around money
– How to be consistent with your business even if with a full-time job.
– Passive vs. active income and when active income can be a good thing, plus the most common passive income myths that can hurt your business.
Part II: NO BS STRATEGY – Choose Your Business Model
– The secrets of digital products, print-on-demand, and self-publishing.
– Profitable online course ideas.
– Affiliate marketing vs. creating products.
– Physical products, Amazon FBA, and Shopify.
– Apps and software
– Create a brand with different courses of passive income.
– Why and how you need to master outsourcing.
Part III: Your Marketing Vehicle
– Free traffic vs. paid traffic
– Tricks to quickly generate valuable business connections
– Email marketing and auto-responders
– Why you don't need to be everywhere on social media
– How to pick the most effective way to promote your biz
– MJ de Marco's Commandment of Control – How to ensure the longevity of your business and lifetime profits
Part IV – INSPIRATION- BONUS INTERVIEWS WITH SUCCESSFUL EXPERT ENTREPRENEURS
Chris Jones – Zon Life SuccessDave Chesson – KindlepreneurSandra Leon – Sandra The Mom BossJohn Pinedo – Freedom Bound BusinessTrevor James – Ecommerce ParadiseCyrus Kirkpatrick – Cyrus KirkpatrickRuss Raj – Ambitious TypesJyotsna Ramachandran – Happy Self-Publishing
(Bonus audio inside, just follow the instructions in the book!)
Part V Your Profitable Game Plan!
– How to set goals and smash them.
– Why taking imperfect massive action is the quickest path to success.
– What you need to master to create "lifetime profits" so that you never need to worry about living in scarcity.
Ready to change your reality? Take control of your full potential by scrolling up and clicking the BUY NOW button at the top of this page!