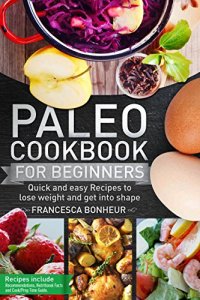 Bargain on 1st - 5th Jun 18



or borrow free on Kindle Unlimited.
No reviews yet.
Paleo: It's a "no grainer"
First book in the Ultimate Paleo Cookbook series!
When people tend to adopt a new living method and a new diet; they might be looking for the best way to help them feel better and live healthier; this is not an assumption, but rather a truth. Indeed, we can call Paleo diet the unique lifestyle choice par excellence that encourages the consumption of certain foods more than other types of food.
And what characterizes this specific type of diet is that it is also based on eating food like our ancestors did; based on an evolutionary perspective. Some other people would adopt a new form of diet because of different personal reasons like remaining fit as long as they can.
And one of the most important reasons for adopting a Paleo diet is that it increases autoimmunity and provides the body with a high load of protein, low carbohydrates and completely natural nutrients.
This book will also allow you not only to learn how to adopt a brand-new Paleo lifestyle in order to feel healthy, lose weight, and also increase the level of energy. With this Paleo cookbook for Beginners, you will have the healthiest life you have ever dreamt of. Besides, you will be able to reduce any diabetes problems you might be suffering from like heart diseases and cancer as well as modern ailments.
This Paleo Cookbook for Beginners is a straightaway, guide that will make you succeed in embracing and living according to a new diet. In this book, you will also find a daily plan that will help you know what you should eat throughout the entire day, especially if you are a beginner.
Here Is A Preview Of What You'll Learn…
What is the paleo dietBenefits of adopting the paleo dietObesity in America(Paleo recipes and weight lossChicken recipes Beef recipesVegan recipesVegetarian RecipesFish and seafood recipesMuch, much more!
Download your copy today!
Tags: paleo cookbook, paleo recipes, paleo for beginners, paleo chicken, paleo beef, paleo vegetarian, paleo seafood, weight loss, fat loss, paleo cooking, paleo diet recipes