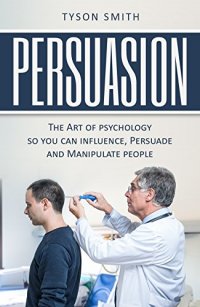 Bargain on 30th Oct 17



or borrow free on Kindle Unlimited.
No reviews yet.
Here Is A Preview Of What You'll Discover inside…
Perhaps one of the best superpowers that Mother Nature blessed us humans with is the art of persuasion. Persuasion and the art of manipulation are the strongest power in this world, even stronger than brute force. With correct training and proper skill-development, you can convince even the most stone hearted brutes to do whatever you want them to do. This is the power of persuasion – it does not break people; it melts them.
Persuasion is the most important skill that, unfortunately, not many people have. However, individuals who have this skill rule not only their career and personal life but also the world. All the top world leaders and political gurus have reached the top by persuading and sometimes manipulating people. Playing these mind-games is necessary to win at life. But how to play them?
You will find
All the secret tips and tricks that are used by the top persuaders in the world. You will learn how you can use simple methods involving psychology and behavioural tactics of the general population, to manipulate people. You will also learn the primary difference between persuasion and manipulation and which one you should focus on according to your need.
I am sure you will find the information given in this book useful in your day-to-day life.