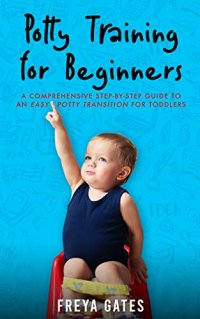 "Whether the person doing the potty training is a veteran in that department or a first-timer, the book has something for everyone. Potty training a child or a toddler can be an intimidating experience and the book gives many tips so that this messy duty will have positive results." —5 Stars, Readers' Favorite
Teaching a child with minimal fuss requires the perfect game plan!
If you want to toilet train your child fast and effectively, you?ll need to start where all parents do: the beginning! Combining timeless advice and modern techniques, author Freya Gates has created the perfect, fool-proof guide to make your life a breeze.
It?s easy to underestimate how frustrating potty training your child can be. For some, the process is nothing short of a nightmare! So, keep your sanity, and do ensure that your young one?s transition from diapers runs smoothly.
Inside you?ll discover:
Common myths and misconceptions parents MUST be aware ofDevelopmental theories and their bathroom applicationsPreparations and coaching tips to keep your child engagedHow to overcome the biggest hurdlesAND MUCH, MUCH MORE!
Potty training need not be a chore. Equipped with this powerful tool, you?ll be a champion-trainer in no time at all… so flush your worries away!