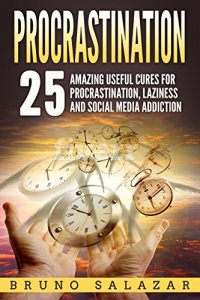 Free on 19th Dec 17



or borrow free on Kindle Unlimited.
No reviews yet.
Use these awesome tricks and tips to get rid of procrastination, laziness, and finally begin to live the life you always dream of!
Procrastination is probably the biggest obstacle that stands between a person and the success that they crave. It is a common practice among so many people to put off until tomorrow what they don't want to face today.
In contrast, the most successful people seem to never put anything off, no matter how important or unimportant it might be. This practice of doing what needs to be done is often the difference when it comes to turning dreams into reality.
Fortunately, there are several proven methods on how to address and overcome the things that cause people to procrastinate in the first place. This book will reveal 25 of the most effective techniques for overcoming procrastination, thereby enabling you to get out of your day to day rut and to begin realizing your dreams and living the life you truly deserve.
Now, let me show you what you will find in the book..
Addressing the Physical Causes of LazinessTackling the Mental Causes of LazinessFive Common Causes of ProcrastinationFive Tricks for a Successful Work EthicCurbing Social Media AddictionAnd Much, Much More!!!
Do not hestitate, take action and get this Kindle for only $2,99