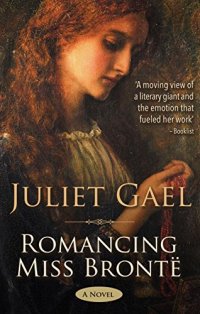 Free on 5th Jan 18



or borrow free on Kindle Unlimited.
No reviews yet.
In this critically acclaimed novel of historical fiction, Juliet Gael portrays the poignantly courageous life of Charlotte Brontë, the woman who transformed her heart's loss into one of the most enduring literary works of all time – Jane Eyre.
Despite two offers of marriage, Charlotte entertains no hopes of marrying for love. Struggling with a powerful, destructive passion for a married professor in Brussels, she returns to England where she must come to terms with the isolation of her life in the desolate Yorkshire moors.
Duty-bound to a blind father and an alcoholic brother, Charlotte and her sisters Emily and Anne conceive a plan to earn badly needed income: they will publish. Returning to the imaginary worlds that had been their solace since childhood, the sisters craft novels quite unlike anything written before. Against a backdrop of domestic chaos, they go about their business in utmost secrecy, writing under pen names and deftly spiriting manuscripts back and forth to publishers under the noses of unsuspecting family and friends.
Charlotte's Jane Eyre becomes an overwhelming literary success, catapulting her into the spotlight of London's fashionable literary scene, and into the arms of her new publisher, George Smith, an irresistibly handsome young man whose interest in his fiercely intelligent and spirited new author seems to go beyond professional duty. Just as life begins to hold new promise, unspeakable tragedy descends on the obscure little parsonage, throwing London and George into the distance and leaving Charlotte to fear that the only romance she will ever find is at the tip of her pen. But another man waits in the Brontës' Haworth parsonage–the quiet but determined curate Arthur Nicholls. After secretly pining for Charlotte since he first came to work for her father, Arthur suddenly reveals his heart to her.
Romancing Miss Brontë is a moving portrayal of an extraordinary woman whose life and work articulated our deepest human longing: to love and be loved in return.