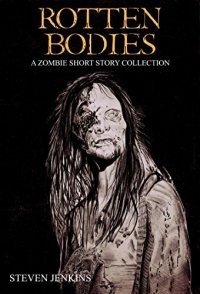 Free on 23rd Sep 18



or borrow free on Kindle Unlimited.
No reviews yet.
We all fear death's dark spectre, but in a zombie apocalypse, dying is a privilege reserved for the lucky few. There are worse things than a bullet to the brain—much worse.
The dead are walking, and they're hungry. Steven Jenkins, bestselling author of Fourteen Days and Burn The Dead, shares six zombie tales that are rotten for all the right reasons.
Meet Dave, a husband and father with a dirty secret, who quickly discovers that lies aren't only dangerous…they're deadly. Athlete Sarah once ran for glory, but when she finds herself alone on a country road with an injured knee, second place is as good as last. Working in a cremation facility, Rob likes to peek secretly at the faces of his inventory before they're turned to ash. When it comes to workplace health and sanity, however, some rules are better left unbroken. Howard, shovelling coal in the darkness of a Welsh coalmine, knows something's amiss when his colleagues begin to disappear. But it's when the lights come on that things get truly scary.
Six different takes on the undead, from the grotesque to the downright terrifying. But reader beware: as the groans get louder and the twitching starts, you'll be dying to reach the final page.
"Utterly hair-raising, in all its gory glory!"

CATE HOGAN – Author of One Summer