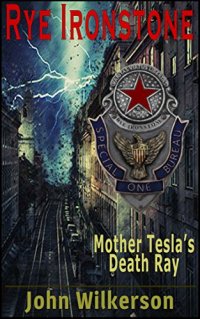 Bargain on 26th Feb 18 - 2nd Mar 18


No reviews yet.
Also Available as:

For suspense-filled, apocalyptic thrillers, Rye Ironstone – Mother Tesla's Death Ray is a new standard, blending the dry wit and political incorrectness of a true 1980's hero learning to wear the badge of responsibility.
In a devastated Appalachian town, Nicola Tesla's long fabled death ray has been found. The surviving town folk live in fear as they continue to be tormented by the ungodly lightning from the sky. Their world lies in shambles, government help halted.
Rye Ironstone, security guard from the local university, sets his mind to solving the mystery of what happened to his beloved home. All the while, a secret government organization tasks an operative to work with him. Rye's irreverent look at life thrusts him and his new partner into a final confrontation with the religious group intent on correcting the moral decline of the nation.
Mother Tesla's Death Ray is the first book in the Rye Ironstone series. Each book is a stand alone story. For information about the author, check out JohnWilkerson.com
You can also join the mail list to learn when new books are released.