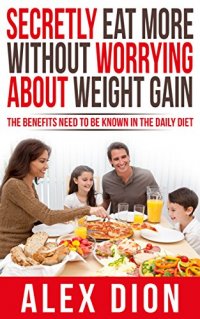 Eat normally, stay healthy, lose weight!
Ketogenic diets are among the most popular ways to lose weight today, and the reasons for this are simple and straightforward. With a ketogenic diet you can lose weight safely and keep it off, without compromising on the food you eat.
Now, with this great new book, Ketogenic Diet: Secretly Eat More Without Worrying About Weight Gain, you can learn all about why the weight loss diet really is the best solution for you.
In just 8 chapters you will learn about:
o The ketogenic diet
o Why it benefits you
o The types of food to eat and those to avoid
o Recipes for breakfast, lunch and dinner
o Desserts you can eat on the diet
o A range of snacks which are suitable
The ketogenic diet works through a system called ketosis, which means that once your body has worked its way through getting rid of the carbs you have stored, it gets to work on the fat and this is what enables weight loss.
But it doesn't simply stop with losing weight. The knock-on effects on our health is also a major plus with this method of dieting. Diseases and problems such as heart disease, stroke, obesity, high cholesterol and high blood pressure can be avoided or eliminated and you'll also find that food cravings are reduced and moods are improved.
Get your copy of Ketogenic Diet today and see what difference it will make to your weight loss!