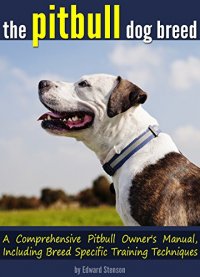 If you want to better understand the Pitbull dog breed and learn how to train one, then this book is for you!
Read on your PC, Mac, smart phone, tablet, or Kindle device.
Pitbulls have a bad reputation. They rank as the most aggressive dog breed in terms of people's perception, with some states even adopting laws that ban people from owning them. This isn't fair of course, because with proper care and attention from their owners, pitbulls can be the sweetest of companions. While it's true that these dogs were originally bred for more aggressive activities, such as hunting and dog-fighting, they have the capacity to be one of the most docile and loyal dog breeds around. Fully understanding the pitbull breed is the first step in developing a bond with your dog so that he or she will allow you to be the pack leader.
This ebook is designed to debunk harmful preconceived notions about this amazing breed. Along the way, I'll also cover how to teach your dog simple tricks and obedience commands, and how to socialize your pitbull with other dog breeds. We'll also discuss the pitbull's breed-specific traits, including how to tend to your dog's special nutritional and physical needs, since that's the key to a happy and healthy pitbull who's eager to be your best buddy for life.
Here Is A Preview Of What You'll Learn…
The Pitbull's Breed-Specific TemperamentThe Importance of Exercise for The PitbullTending to Your Pitbull's NutritionSocializing Your Pitbull with Humans and Other DogsSimple Tricks and Commands to Teach Your DogMuch, much more!Download Your Copy Today!