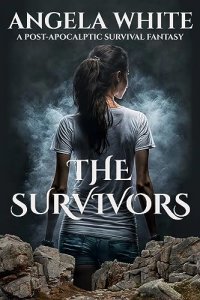 Free on 24th - 26th Nov 21



or borrow free on Kindle Unlimited.
No reviews yet.
Life After War is Almost Impossible Without Magic
Governments are not doing well underground. They're running out of food and water; infighting is rampant, and they have too many enemies to reclaim their countries alone. They have to bring the rest of the descendants to their side. The easiest way to accomplish that has always been to threaten the kids.
Adrian has a rare gift that lets him draw in other magic users and charm them. He is a master at digging into the soul to repair the damage. After the apocalypse, Adrian forms Safe Haven Refugee Camp and creates a dream that even his secrets can't crush.
Angela blazes a path across the broken country to find her son after the war, using her gifts. The witch attracts traumatic threats that threaten everyone and trigger evolutions to levels of power that haven't existed in centuries.
Samantha escapes captivity and makes her way to the only place left in America where she'll be protected. By the time she learns Adrian's secret, Safe Haven has become her home. The storm tracker will do anything to protect her new place in the post-apocalyptic world.
Marc is a tall, dark, handsome Marine who only cares about honor and his broken heart. Finding out he made a baby brings the military loner to Safe Haven in hopes of a second chance with his past. Sparks fly when he discovers Adrian's secret, causing a battle for the love of a woman and leadership of the powerful camp.
Nature is a dangerous foe that tries to push humanity over the brink of extinction with eruptions, earthquakes, disease, animal attacks, and harsh weather. Mother Nature fears the descendants will serve their true purpose and save the world that she is trying to bury under the ashes. Nature wants the plague of humans gone, and she'll go to any lengths to accomplish that goal.
She'll even challenge the Creator for it.
Life After War is a dark fantasy series that chronicles the survival of humanity when a global nuclear war splits the remaining populations and pits them against each other in an epic battle for control of everything. Book One brings the survivors together and starts a chain reaction that will either save the world or finish destroying it.
*Not suitable for those under 18.