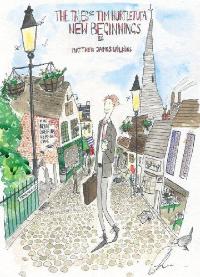 Also Available as:
Print Edition

The Tales of Tim Hurtletuta is a set of experiential novels following one man's journey through this little thing we call life. Everything we do in life has a beginning and The Tales of Tim Hurtletuta is no different. Thus 'New Beginnings' is the first Tim tale to come to be. I hope you find as much enjoyment reading it as I did writing it.
"In the depths of darkness, an unwelcome memory of what has been comes flickering back into Tim Hurtletuta's awareness. He used to be an intuitive, insightful, compassionate and free thinking young man. He's not anymore. Blinded by a deception long forgotten he's walking alone, lost in a life that somewhere deep down he knows he doesn't belong to. He has to choose. Choose to go against his better judgement and make a decision that will change his life forever. Awakening one morning he feels refreshingly different, the world around him has changed and so has he. Battling inside he slowly detaches from himself and watches as the material illusion he's so carefully created starts dissolving before his eyes. Torn by what to believe he takes a massive leap of faith, setting in motion a day full of unexpected experience and interaction that shifts his belief way beyond anything he could ever have imagined."
Please feel free to visit www.timhurtletuta.com for more information.