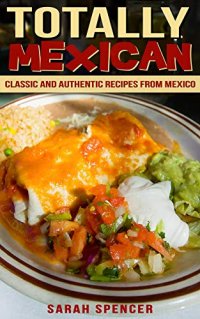 Love Mexican food? Making your favorite Mexican dish is easier than you think! With the right ingredients, good authentic recipes and a little preparation, you?ll have a Mexican fiesta in no time.
Download FREE with Kindle Unlimited!
Do you find yourself always making an excuse to visit your favorite Mexican restaurant because you crave the flavors that just nothing else can compare to? Between the smoky spiciness and tangy richness, just the thought of the perfect authentic Mexican dish leaves your mouth watering. True Mexican cuisine bursts with the freshest flavors of the regions, from native vegetables, fruits, and grains, to succulent meats and seafood. There seems to be a secret to the region, which only the residents know, about how to bring forth the true nature and beauty of these ingredients. When we are lucky, we find the perfect Mexican restaurant that knows these generations-old secrets.
If you love Mexican cuisine, then you will be happy to know that you can recreate some of your favorite tastes in the comfort of your own kitchen, while tapping into the rich heritage of the region. This cookbook contains recipes for many favorites as well as some of the lesser known, but equally delicious traditional dishes. Soon, your own kitchen will be filled with the aroma of authentic Mexican cuisine.
Inside find:
?Useful term to know when cooking Mexican food
?How to make the basic staples of Mexican cooking like corn tortilla, guacamole, salsa and more
?Appetizing appetizers like the Roasted Peppers Gorditas or the Chipotle Everything Nachos.
?Heartwarming soups and stews like the Chile Shrimp Chowder or the Pork Cumin Stew
?Mouthwatering chicken recipes like the Chicken Mole or the Chicken Enchiladas with Red Sauce
?Wholesome beef dishes like Jalapeno Blessed Steak with Fresh Salsa
?Classic Mexican Pork recipes like the Saucy Carnitas
?Light and Spicy Fish and Seafood favorites like the Sea Bass a La Veracruz
?Savory vegetables and sides like the Stuffed Poblano Pepper Casserole or the Mexican Street Corn.
?Sweets everyone loves like the Spiced Apple Tarts with Dulce de Leche Sauce or the Mexican Hot Chocolate Brownies.
Craving for Mexican food? Let get started!
Read on your favorite devices such as Kindle, IPhone, IPad, Android cellular phone, tablet, laptop, or computer with Amazon's free reading Kindle App.
Scroll back up and click the BUY NOW button at the top right side of this page for an immediate download!