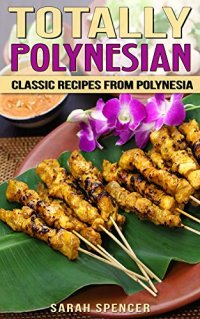 Bring the flavors of Polynesia in your kitchen and serve a feast to remember!
Download FREE with Kindle Unlimited!
Picture in your mind a warm, tangerine colored sunset and fine grains of soft sand between your toes. You can smell the ocean water in the distance, but closer than that you catch the aroma of rich, juicy meat slowly cooking over a ground pit, and your mouth begins to water. Soon you find yourself at a festive setting and before you is an incredible feast, including a decadent pu pu platter, smoky meats, seafood so fresh it is almost unimaginable and the sweetest, juiciest tropical fruits in the world. You have walked into a culinary dream; you have discovered Polynesian cuisine.
The cuisine of Polynesia is as irresistible as the landscape and the people. With this book, you can experience the flavors of the islands in your kitchen. With ingredients that you can find locally, the classic dishes of the region are yours to enjoy whenever you want. You don?t need a tropical vacation to treat yourself to Polynesian food; you just need this book and a spirit of exploration.
Inside, find:
?A practical description of the ingredients used in Polynesian cooking
?Decadent appetizers like the Pineapple Ginger Chicken Wings or Sweet and Sour Meatballs
?Mouth-watering chicken recipes like the Huli Huli Chicken or the Samoan Chicken with Coconut Rice
?Pork masterpieces like the Kalua Pork or the Slow Cooked Luau Style Pork
?Delicious beef dishes like the Lu Pulu or the Grilled Island Burger
?Delightful Fish and Seafood like the Lomi Lomi Salmon or the Vanilla Seared Scallops
?Appetizing vegetables and side dishes like the Jackfruit Curry or the Pineapple Fried Rice
?Sinful desserts like the Samoan Panikeke or the Easy Pineapple Poke Cake
Let?s start cooking!
Read on your Kindle, Iphone, Ipad, Android cell phone, tablet, or computer!
Scroll back up and click buy for an instant download!