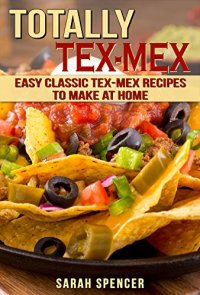 Have a taste of the authentic Tex-Mex cuisine and prepare a delicious Tex-Mex meal your family will love! You?ll be amazed at the flavors and ease of making true Tex-Mex dishes.
Download FREE with Kindle Unlimited
The Tex-Mex cuisine is one of the most colorful and flavorful indigenous regional cuisines in America. The first encounter between Mexican and Spanish cuisine took place during the Spanish mission era in Texas, back in the 17th century. Tex-Mex has remained a relatively constant presence along the Mexico-US border ever since; however, the 20th century introduced quite a few variations on the tradition.
Inside this book, you?ll find:
?All about the Tex-Mex cuisine including a bit of history and the ingredients used for cooking Tex-Mex
?Basic Tex-Mex recipes like the Taco Seasoning Blend and the Enchilada Sauce
?Delicious breakfast recipes such as the Easy Tex-Mex Omelet and the Fried Eggs Tacos
?Tasty appetizer recipes like the Taco Queso Dip and theEasy Homemade Tex-Mex Nachos
?Wholesome chicken recipes such as the Cheesy Chicken Enchiladas and the Tex-Mex Slow-Cooker Chicken
?Satisfying beef and veal recipes such as the Puffy Taco Shells and the Spicy Grilled Veal Steak
?Bountiful pork and lamb recipes such as the Tex-Mex Pulled Pork and the Tex-Mex Roasted Lamb Ribs
?Delightful fish and seafood recipes such as the Tex-Mex Fish Fillets and the Shrimp Tacos with Fruity Salsa
?Traditional vegetarian recipes like the Cheese Quesadilla and the Fried Jalapeños
?Luscious dessert recipes such as the Chocolate Pecan Pie and the Sopapillas
All recipes come with a detailed list of ingredients, cooking time, number of servings, easy to follow step-by-step instructions, and nutritional information per serving.
Read on your favorite devices such as Kindle, iPhone, iPad, Android cellular phone, tablet, laptop, or computer with Amazon's free reading Kindle App.
Scroll back up and click the BUY NOW button at the top right side of this page for an immediate download!