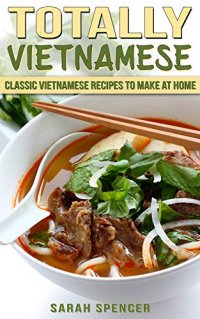 Making delicious, exotic, and authentic Vietnamese recipes have never been this easy!
Download FREE with Kindle Unlimited
Have you always wanted to prepare healthy but interesting dishes for friends and family, but thought it was too complicated? Have the exotic herbs and flavors of Vietnamese cuisine both intrigued and intimidated you? Bring the wonder and adventure right into your home! It?s so easy.
If you?ve never tried Vietnamese food before, or just want to explore new flavors, you will love this cookbook. Inside, you'll find all the information and best recipes to prepare authentic Vietnamese food ? from the simplest to the most intricate and exotic recipes. You?ll find out how the history, geography, and lifestyle of the gentle, hardworking, and resilient people of Vietnam are reflected in each dash of spice, each grain of rice, each drop of sauce, and each mouthful of incredibly pleasurable flavors and aromas.
Already enamored with the victuals of the East? The journey never ends! Vietnamese cuisine is dynamic ? forever evolving and continuing its tradition of improvisation and resourcefulness. They have come up with dishes that unite the East and the West, dishes familiar to both, yet still uniquely distinct.
What should you expect? 50 recipes with step by step instructions of the best of what the Vietnamese cuisine has to offer including appetizers, soups, beef, chicken, pork, fish and seafood dishes, and lovely desserts.
As you turn the pages of this book, you will discover (or maybe rediscover) convenient information like:
?what it is that makes the cuisine of this tiny country in Southeast Asia so unique.
?the ?secret ingredients? that give Vietnamese dishes character and identity.
?the cooking techniques passed down from their rulers and forebearers, now open to those who seek to learn.
?herbs and spices that not only give flavor but offer benefits to one?s health as well.
?Classics dishes like Pho, and how so much love goes into making it the comforting, soul-soothing dish that we know.
?creations resulting from the fusion of old and new, East and West; like Tilapia in Cognac Cream.
Come and join this adventure that is Vietnamese cuisine!
Scroll back up and click the buy button for an immediate download
Vietnamese cuisine, Vietnamese cooking, Vietnamese cookbook, Vietnamese recipes, Chinese cooking, Southeast Asia recipes, Southeast Asia cookbook, Southeast Asia book, Southeast Asia cooking, Pho soup recipes, Vietnamese food, Southeast Asia food, authentic Vietnamese food, authentic Vietnamese cooking, Easy Vietnamese cookbook, Vietnamese food book, Vietnamese food cookbook