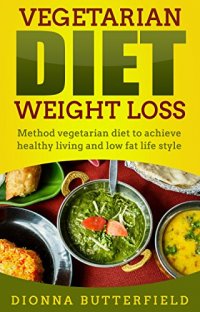 Free on 3rd - 7th Jan 18



or borrow free on Kindle Unlimited.
No reviews yet.
Also Available as:

The path to a healthy body is paved with real food that comprises wholesome, fresh, vegetarian foods. With this vegetarian diet book for beginners, discover the guilt-free way to get healthy. Whether you are a vegetarian or simply want to include more plant-based foods in your diet, the book offers a wide variety of healthy recipes that you can make in your own kitchen. More and more people are now switching to a vegetarian diet. Vegetarianism is a fast-growing global movement, and everyone can become even healthier and fitter by eating whole plant foods.  This vegetarian diet cookbook will show you how to start a vegetarian diet so you can lose weight naturally, lower your risk of heart attack, diabetes, and other chronic diseases. The book offers plant-based wellness that is both accessible and delicious.
The book provides you with a variety of meat-free, vegetarian meals that will keep you full throughout the day. However, the book isn't just for vegetarians. It's for anyone who wants to add more vegetables, whole grains, and fruits to their meals and omit meat without sacrificing flavor. Beyond the health benefits, the true vegetarian recipes of this book offer bold flavors and rich textures. Full of diverse ingredients and exciting flavors, this vegetarian cookbook offers a wide variety of recipes that meet your nutritional needs and busy lifestyle. The book is designed to make every cookbook lover relish the fine dining vegetarian dishes at home. This vegetarian diet book for beginners will get you started on the path toward a healthy, meat-free lifestyle. This is a must-have for any home cook looking to prepare nourishing plant-based meals with the best the seasons have to offer. This is the only vegetarian cookbook you will ever need.