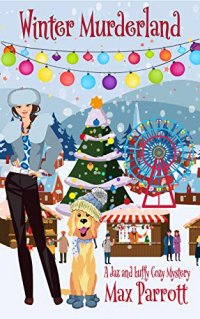 "The series as a whole is charming and lighthearted with the endearing duo of Jaz and Luffy bringing humor and heart?Max Parrott is well-known for a witty writing style and a seamless capture of the canine personality with Luffy's huffiness and constant commentary."–5 Stars, Readers' Favorite
?Tis the season for murder.
With winter settling in to stay and a traveling carnival bringing an extra dose of festivity to the quiet town of Blackwood Cove, Jasmine and her faithful dog Luffy are looking forward to a picturesque winter holiday with sparkling snow and twinkling Christmas lights.
But when rumors of a terrible crime sweep through the town, the carnival?s magic and wonder quickly begin to sour. As the carnival organizers scramble to maintain their joyful façade, Jasmine and Luffy are called on to put the rumors to rest ? but this time, as official private detectives.
Struggling for leads in an environment where every snowflake and performer?s smile is meticulously arranged, the pair of sleuths must get to the bottom of the case without upsetting the guests or causing more wild rumors to fly. Can Jasmine and Luffy solve the mystery and save Christmas before the situation spirals out of control? Or will their very first case as official private detectives fall flat?