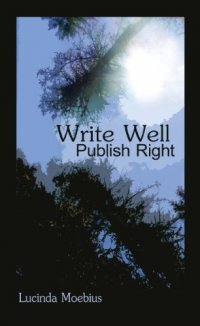 Bargain on 4th - 8th Jun 18



or borrow free on Kindle Unlimited.
No reviews yet.
Everybody has a story. It builds up inside us, fighting at the edges of our soul, pushing at us until it forces us to open an outlet and let it escape. So, what do we do? How do we tell the story?
Write Well Publish Right is designed to bring story-tellers from the first glimmer of an idea into completion of a full-fledged print book. This is not a "how-to" book, this is an "I did it and you can do it too" book. For all the writers who have ever attended writer's workshops, community education classes and library meet-the-author days and wondered how to write a book and get published, this book leads the way. Learn how to write your first book or improve your writing in general.
This book takes you on a journey into the world of writing and publishing from the perspective of an author who has been there. Lucinda Moebius has experienced the world of publishing through professional and self-publishing forums. Through her journey she has learned many lessons and has experienced both good and bad sides of the publishing world and she has decided to share the knowledge she has gained with you.
There are books out there about writing and there are books out there about publishing. Write Well Publish Right is a book about both. This book breaks down the foundations of good writing, teaches lessons and explains, in the simplest terms, how you can publish your story.
There are no shortcuts to becoming a published writer, but Write Well Publish Right can be a signpost pointing the way.