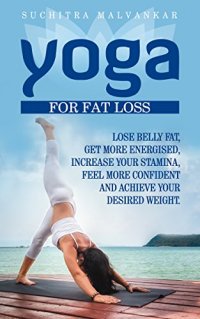 Free on 22nd Sep 17



or borrow free on Kindle Unlimited.
No reviews yet.
In this book, "YOGA for Fat Loss", I discuss one important aspect of our health namely dealing with excess body weight. The benefits of yoga will take the time to manifest in you. But, when they do, they are there forever.
When we do the yoga asanas, we are stimulating the internal organs. More importantly, we massage the organs so they work better. Each of the asanas is aimed at a specific organ or its functioning. By doing the yoga asana, we can cure ailments and control the aches and pains.
Physical activity burns calories. This is important since this will stop the excess food we eat from remaining stored as fat. People who are overweight will find the practice of yoga simple and easy. It is not as strenuous as jogging or lifting weights but produces an equal if not better result. Begin small with one exercise or two and then build up the list until you have a smooth flow from one exercise to another. One last thing, the results will take months to show. So, keep at it for some time. When you begin to lose weight, things will speed along. Next, we will learn something even simpler but extremely effective – the mudras.
When we do yoga poses, we compress the muscles and stretch some of them for extended periods. Like this, we add strength to the muscles which makes our exercises more vigorous as time goes by. At one stage, the rate of the exercise will make the muscles use up excess energy and begin to use the energy stored as fats.
This will result in weight loss.
For getting the body you desire buy this book for only $ 0.99!