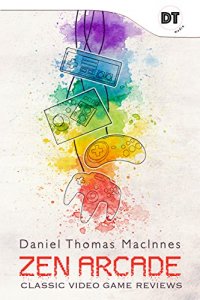 Bargain on 31st Dec 18



or borrow free on Kindle Unlimited.
No reviews yet.
Zen Arcade collects 140 reviews of video games across six classic platforms: Nintendo Entertainment System (NES), Super NES, Nintendo 64, NEC Turbografx-16, Sega Genesis and SNK Neo-Geo. Author Daniel Thomas MacInnes, a video game writer for over 20 years, guides you through this living history with intelligence, humor and wit.
Do you love retro video games? Are you a veteran collector, or a young player wondering where to begin? Are you a modern game designer searching for inspiration, or a writer seeking insight? Zen Arcade is a celebration of the vitality and power of classic video games to inspire and entertain.
NES reviews include: Adventure Island; Bubble Bobble; Donkey Kong; Galaga; Ice Hockey; The Legend of Zelda; Mega Man; Metroid; NES Play Action Football; Ninja Gaiden; Super Mario Brothers; Tennis; Xevious; and more.
Super NES reviews include: ActRaiser; Castlevania 4; Donkey Kong Country; F-Zero; Final Fight; Gradius 3; The Legend of Zelda: A Link to the Past; Pilotwings; SimCity; Street Fighter 2 Turbo; Super Mario World; Super Metroid; and more.
Nintendo 64 reviews include: Cruis'n USA; Mario Kart 64; Super Mario 64; Wave Race 64; and more.
Sega Genesis reviews include: Altered Beast; Columns; Ecco the Dolphin; Ghouls 'N Ghosts; Golden Axe; Space Harrier 2; Sonic the Hedgehog; Streets of Rage 3; Toejam and Earl; and more.
NEC Turbografx-16 reviews include: Alien Crush; Bonk's Adventure; Bomberman '93; Devil's Crush; Dragon Spirit; Dungeon Explorer; Military Madness; Neutopia; R-Type; Super Star Soldier; World Class Baseball; and more.
SNK Neo-Geo reviews include: Art of Fighting; Baseball Stars 2; Fatal Fury; The King of Fighters '94; Magician Lord; Neo Turf Masters; Samurai Shodown; World Heroes; and more.
Daniel Thomas MacInnes is a writer, artist, and a Minnesota native currently living in Chicago. He is the founder of popular movie website Ghibli Blog. His writing credits include GamePro, Time Out London, Antes De Mi Vecino Miyazaki, Lupin the 3rd: The Complete First TV Series and Horus, Prince of the Sun.