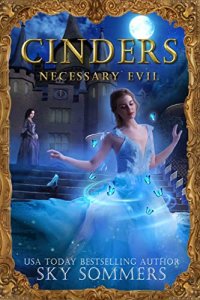 Bargain on 30th Mar 21 - 3rd Apr 21



or borrow free on Kindle Unlimited.
No reviews yet.
Oh, you think you know Cinderella? She loses a shoe and in exchange gets a prince…
Here's a double book that tells all – the stepmother's side supplemented by Ella's diary of the events. If Thumbelina was more Roald Dahl and suitable for kids, this one isa dark fairy tale adaptation for a more adult (18+) audience in the vein of Sarah Pinborough?s Charm and Jackson Pearce?s Sweetly.
STEPMOTHER: Three step-kids with magic abilities and a license to be evil? Yes, please.
With a restaurant to run, Ella to boss around and a cannibalistic witch to befriend, Grace seems to have made the bargain of a life-time. If it wasn?t for one estranged husband, the lying mirrors and Ella?s teen romances getting completely out of hand. Also, there seems to be a part of the bargain Grace might be forgetting, while her son?s third birthday is approaching. Fast.
Can Grace be the necessary evil that gets Ella her dream? What did she get in the bargain? And why are guardian angels and the Fae Queen involved? Again.
ELLA: I used to love fairy-tales until I was in one. Thanks, Mother, for upping and leaving to chase after some man.
My name is Elizabeth Jane Goodall and I can read minds. Not everyone?s, goodness, no, that?d be a nightmare! I wonder what was Mother?s trick? Father has no magic. Nor does the witch he married.
?Ella do this and Ella do that!? I wish Aunt Mellie, my godmother would whisk me away from the drudgery of my common existence. But she didn?t want to take me in. For which I?m making her pay every chance she offers. I wish I had a fairy godmother!
While my stepmother is rumoured to be related to the King, does she let any of us enjoy the benefits? It?s not like I want to get to know Nicholas aka Prince Charming better. I fancy John from school and for a while I think he liked me, too. Until Betty claimed him. Literally.
I can?t wait to turn 18, finish school and leave this place. Mellie insists I need to marry an aristo, but I want to?just figure out what I can do, who I could be, where I could live.
Because it definitely isn?t doing chores, serving dinner to stepmother?s clients and living in this hovel we nominally call a castle. I wish?for a miracle.