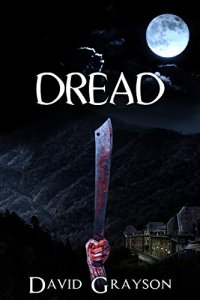 Bargain on 30th Nov 20 - 4th Dec 20



or borrow free on Kindle Unlimited.
Top - Reviews - Update Details
The debut book of David Grayson is a short one-hour unique mix of mystery, horror and thriller that leaves readers anxious to turn the page.
Synopsis:
An infamous Sanatorium with a bad reputation hidden in the Appalachian mountains. A man who's wrongfully found himself there by the noble actions of his past. As he begins to witness strange events he cannot explain, he soon realises that the true horrors lie not inside his prison walls; but outside in the woods of the mountain. As time starts running out and danger starts to close in, he will have to fight for his freedom and, ultimately, his survival.
ROBINSON ????? – "It?s a good short read that you can finish in a few hours. The atmosphere outside the asylum is very intriguing and explained very well; you almost feel like you are there yourself. I also like how Ed observed a lot of the key events from his window, it really felt like the story was from his point of view and everything was described very strongly. Would?ve been great if it was a bit longer though."
Chris S.???? – "Very intriguing atmosphere and storyline explained in great detail ? I definitely sensed some elements of the movie Wrong Turn in the plot and I think some inspiration has been drawn from it. It?s a good balance of suspense and mystery that makes for an interesting read."
Mikey ????? – "The suspense in this book is written very well and built up gradually ? which is exactly what you want. The storyline is very unique and he?s created a mysterious atmosphere which you feel at times as if you are in it, mainly because it?s very well described and the storyline is explained from the main character?s point of view, who comes off a relatable person in some ways. It makes for a great short horror read ? although for me it was more of a suspense/mystery than horror, which actually came as a nice surprise."