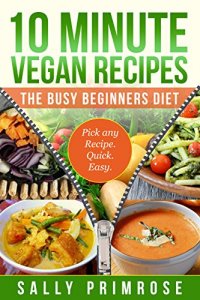 Bargain on 22nd Jul 17



or borrow free on Kindle Unlimited.
No reviews yet.
You've heard a lot about the vegan lifestyle and how easy it can be to follow, haven't you? Well, we're happy to tell you that what you've heard is completely right! Within this book you'll find delicious, time-saving recipes that will thrill your tastebuds and give you all the flavors that you learned to enjoy during your omnivorous life.
The creator of the recipes within the pages of this recipe book has managed to put together recipes that feed that 'umami' feeling you get when everything about a meal just works. If you're a total vegan newbie, a vegetarian 'on the fence' about taking that next step or simply a vegan-curious carnivore, this book is for you.
Toss out those carry-out menus and get in the kitchen! Eat better – live better – feel better!
This book contains mouthwatering vegan meals that you will be telling your friends about.Each and every meal is designed for the needs of busy person on-the-go.
Here is just some of recipes you will get…

Spicy Tomato Soup

Butternut Squash Soup w/ Cashew Cream

Panzanella

Zucchini Noodle Salad

Vegan Caprese Salad

Cucumber Salad w/ Sesame Dressing

Raw Burrito w/ Avocado Sauce

Vegan Nori Rolls w/ Turmeric & Pumpkin Seed Pate

Green Fusion Tacos

Vegan 'Cereal' w/ Almond Milk

Cauliflower Couscous

Spiced Chickpeas in Tamarind Sauce

Sauteed Chinese Water Spinach

Pan-Roasted Radishes

Vegan Pad Thai