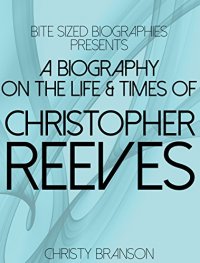 A Biography of Christopher Reeve
Christopher Reeve was best known as Superman, and his life was indeed a mixture of Clark Kent and Superman moments.
Whether you call it the "Curse of Superman" or not, Christopher faced his own personal Kryptonite and left his personal mark on the world as both an actor and activist.
In "A Biography of Christopher Reeve" we dive into how a an aspiring actor from a privileged family charted his own course to become the Man of Steel, only to have his personal strength tested by life's challenges.
And in the book you'll learn:

His early life

His rise to stardom

The role that would define him for better and for worse

His greatest personal challenge and how he overcame it

His role as an advocate for the disabled

AND Much More!
Bite Sized Biographies brings you the stories of famous people from movie stars and musicians to ancient emperors and entrepreneurs.
We take their story and break it down into bite sized pieces that focus on the best parts. We avoid the filler and fluff and focus on what matters.
At bite sized biographies we deliver the life stories of people you care about.
So, buy "A Biography of Christopher Reeve" today and learn all about how Christopher forged his own path to become an icon to a generation as both an actor and activist.
Don't waste your time on books that take forever to get to the good stuff, buy this Bite Sized Biographies book instead.
Click the buy now button.
P.S. Don't forget to grab your awesome free gift inside the book, just our way of saying "thanks for buying"
A Book From The Bite Sized Biographies Series – Check Us Out On Facebook