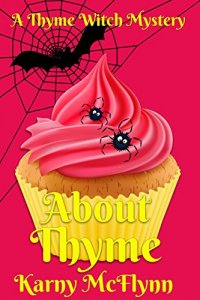 Bargain on 21st - 25th Jul 20



or borrow free on Kindle Unlimited.
Top - Reviews - Update Details
It was just a piece of paper…
The monotony of Everly Thyme's boring predictable life is interrupted when an invitation to dinner arrives at her door from a venomous distant Aunt. Why not go she figured? After all, Aunt Legoria might have the answer to Everly's most burning question.
How much havoc can one rose and aspirin cream scented piece of paper possibly cause?
Fighting monsters that shouldn't exist probably didn't top the list.
Will Everly make it home from dinner in one piece?
Welcome to Bonhomme Maine, population 237, or is it 238?
This is the prequel to The Thyme Witch Mystery Series, previously published as Tails from Under Where